IE-NDT Ltd.,Unit C, Heath Farm, Swerford, OX7 4BN

IE-NDT Ltd.
Europes Leading Manufacturer and Supplier of;
IQI's / Image Quality Indicators, Penetrameters,Duplex IQI, Spatial Resolution and Focal Spot Patterns,
Viewing
Radiation Safety
Lead Marker Tapes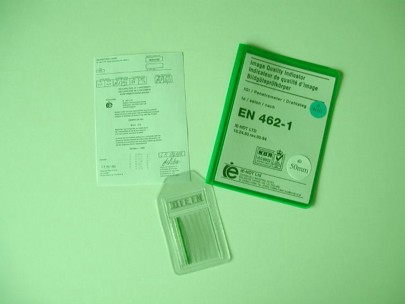 NEWS
ANNOUNCEMENT.
IE-NDT Ltd. Would like to make it absolutely clear that it has no association or affiliation with the company trading as HANGZHOU JINQUE IE-NDT CO.,LTD in China using the website www.ie-ndt.com
________________________________________________________________
IE-NDT Ltd. announces Calibration Certification now available for the new Spatial Resolution Line Pair Patterns & Focal Spot Star Patterns Image Quality Indicator product line;
To learn more about this click HERE.
________________________________________________________________
Europe's leading Manufacturer and Supplier of Radiographic Accessories for Non-Destructive Testing.
Zübehor für Durchstrahlungsprüfung
Accessories pour la radiographie industrielle
Image Quality Indicators

Penetrameters to the following standards

EN 462-1 (ISO 19232-1) Wire type IQI
EN 462-2 (ISO 19232-2) Hole type IQI
EN 462-5 (ISO 19232-5) Duplex IQI
ASTM E-747 Wire type penetrameter
ASTM E-1025 Hole type penetrameter
ASTM E-1742 Hole type penetrameter

Spatial resolution line pair pattern IQI

Focal Spot Star Pattern IQI
Lead Marker/Number tapes

Metal Cassettes

Channel Hangers

Kowolux Viewers

Kowoled Viewers

Negatoscopes

Densitometers

Calibrated Density Strips

Radiographic Reference Catalogues

Radiation Barrier Tape

Customised Barrier Tape
NEW PRODUCT ANNOUNCEMENT
New - KowoLed Brightspot viewer.
We can announce our new Brightspot film viewer available now.
- Film viewing area 100x375mm
- Luminous flux of 86,000 lumen
- Film density 5.2D to EN52280
- Weight 8.2kgs.
- Made in Europe.
Click HERE or telephone us for more information.